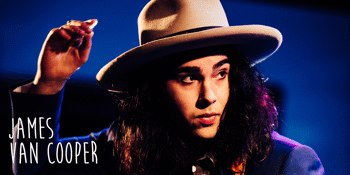 Code One
James Van Cooper
Brass Monkey (Cronulla, NSW)
Friday, 19 October 2018 7:00 PM
Please Note: All tickets sold through this site are General Admission. GA tickets are allocated for standing room only. A general admission ticket does not guarantee seating. To book seated dinner and show tickets please call the venue on (02) 9544 3844

James Van Cooper Australian Country Guitar Rock performer is teaming up to tour nationally in September/October with aclaimed musician Axle Whitehead. James and Axle met while James was recording his debut album "Coming Home" in Los Angeles. Axle a friend of US Music producer Scott Campbell sat in on a few of the sessions watching James work.

It was during this chance meeting the boys discovered their musical tastes collided and given their creative like mindedness agreed to team up when back in Australia and launch a national tour. James will headline the tour showcasing his new record "Coming Home" which is a mix of new country rock and Alt/ Country Cool. Axle returns to Australia after starring in US TV productions "Shameless" and Marvels "Agents Of SHIELD" and is especially eager to road test a new collection of songs.Axles new recording genuflects style wise at the alter of Ry Cooder and Elvis Presley.

Audiences can expect these two artistes to richochet off each other live, with both men being brilliant performers as well these shows provide a mouth watering opportunity to see two of the country's most formiable guitarists in full flight. This tour will Shake Up The Town with James performing with his 4 piece band while Axle is accompanied by musical collaborator and long time sidekick of Bernard Fanning Mr Declan Kelly.