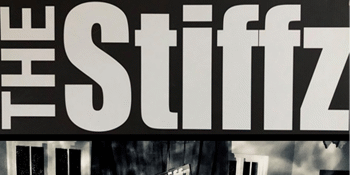 Code One presents
SOLD OUT - The Stiffz + Kim Girdlestone
Brass Monkey (Cronulla, NSW)
Sunday, 17 December 2023 6:30 PM
After nearly two laps around the sun, the local band "The Stiffz" are returning to The Brass Monkey with their eclectic collection of rocking dance, and sing-along tunes. Not only will they be playing semi-faithful covers of classic pub rock bands like the Sunnyboys, The Angels and Icehouse, they also bring their interpretations of big international hits by bands like The Doors, The Dandy Warhols, The Black Keys and more.

On the night their Michael Stipe/Peter Garrett look-alike lead singer will keep you guessing which REM or Midnight Oil songs they will surely belt out. There is also a rumour going around the traps they will be debuting one or two of their original songs. If you do get to the gig, scream out for California Girl, it's a banger.

If it's anything like the last time they toured, the infectious energy of The Stiffz will leave you hoarse from singing and "stiff" from dancing. A night you won't forget in a hurry.