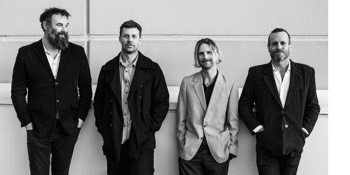 Code One presents..
Tall Shaun
Brass Monkey (Cronulla, NSW)
Friday, 1 March 2024 7:00 PM
Fronted by sensational vocalist Shaun Wessel – whose break-out performance on the 2022 season of The Voice put the veteran entertainers in the spotlight – Tall Shaun is setting a new benchmark in blues music.

With the momentum from this success, Tall Shaun wasted no time hitting the studio to bring their eagerly awaited eight-track EP 'Resolution' to life. The release showcases the band's exceptional blend of blues and roots mixed with echoes of the golden age of '70s acoustic vibes, a sprinkling of alt country influences and an unapologetic dose of flat-to-the- boards rock 'n' roll.

While Wessel's gravelly baritone growl – a voice that stunned judges and captivated millions of viewers in 2022 – is at the heart of Tall Shaun's sound, his band is as good as they make 'em. The tight-knit ensemble, featuring Hayden Moore (drums), Brad Parsons (bass), and Dan Sipple (guitar), ensures every performance is a rollicking good time, guaranteed to get any crowd on their feet and moving.

Experience the raw energy and soulful resonance that defines Tall Shaun – a band that's set to leave an indelible mark on the blues music scene.