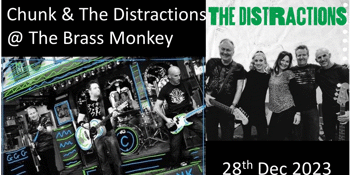 Code One presents..
Chunk + The Distractions
Brass Monkey (Cronulla, NSW)
Thursday, 28 December 2023 7:00 pm
The Brass Monkey will be rockin' n swaying to two of the hottest local bands the Shire has produced. The Distractions will kick off the night with a steaming hot soul and rock repertoire led by the inimitable Kirsten Boggiss-Rossi. The addition of newest member Mel Green on keyboard & vocals has taken the bad to a new level. With some of the tightest guitar, bass and drums around, these guys have seriously sweat rhythm and melody for years and their set list will surely get the party started.

Take a breath, grab a drink because coming up next will be the hour of power that is Chunk. Fronted by the most energetic singer in the land, Steve Vials will work his magic across a swathe of rock songs to deliver an excellent night. Supported by Greg Bullen's shredding guitar, Pete Harris' chunky bass rhythms and Drew Bennett's flawless drumming these guys will land the killer punch to what will be another brilliant night at the Monkey.