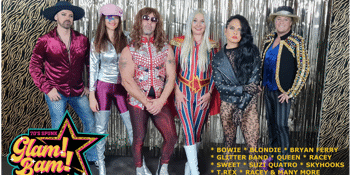 Code One presents..
Glam Bam Thank You Ma'm - 70's Glam Rock Show
Brass Monkey (Cronulla, NSW)
Saturday, 17 February 2024 7:00 PM
Back in the 70's life was carefree and lots of fun. The world embraced coloured tv, computer games, flared jeans and mullets was the dress of the decade. Roads, beaches, and shopping centres were invaded by panel vans blaring out Glam Hits all over the country.

Glam Bam was created with extraordinary attention to detail, producing the sound & mood of the 70's Glam period. Combining boutique pedals, vintage amps, organic bass & drum feel with outstanding vocals & harmonies. This was the only way Glam Bam could deliver the sounds of Bowie, T. Rex, Sweet, Bryan Ferry, Steve Harley & Cockney Rebel, Blondie, Suzi Quatro, Status Quo, Skyhooks, Supernaut and many more timeless hits.

FIRST OF IT'S KIND! A live powerhouse! Sydney's 70's Glam Band…. Launched in Sydney, Nov 2022 to rave reviews & brought the house down with their superior Glam edge & infectious energy! Glam Bam delivers an exhilarating brand of Glam and have been described as 70's old school spunk, glam hallmark's, flamboyantly colourful regalia and more importantly showcasing classic Glam music. They hold the uniqueness of that 70s sound – tongue in cheek antics, imported glam fashion & makeup to complete this 70's dynamic package.

Backed by a band featuring some of Sydney's most exciting muso's:
Perry Glitter Balls
Dixie Normous
ILika Tephfelia
Willie Ardigen
Carly Queen
Star Girl

ENTER THE HOUSE OF 70'S GLAM ….
We'd love to see you and all your friends dress in 70's Glam. Glitter, bling, platforms
and flares…… making your night a 70's fashion social statement!
Fans say, ''Expect a Party'', they bring a sublime collection of the best 70's Glam
beats in town.