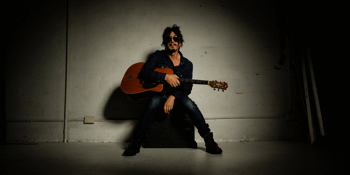 Code One
Steve Balbi (Solo 'N' Electric) With Special Guest Jak Housden - EARLY SHOW
Brass Monkey (Cronulla, NSW)
Saturday, 1 August 2020 5:30 pm
We are abiding by all COVID 19 Restrictions and Protocols so anyone displaying signs of illness will not be permitted entry.

All Shows Are 18+ - Doors Open 5.30pm and venue will close at 8.15pm sharp
Please email the venue on brassmonkeycronulla@gmail.com if you have any dietary requirements
...
The COVID takedown meant many things to many people. For the creative chameleon, Steve Balbi, it was time to peel-back yet another layer of skin to reveal an entirely new pigment – an iridescent sunburst orange in colour, melody and tone – taking time in his home studio. This new fabric of songs will soon take the form of a 12" EP – I think I know for sure – which is due to be released on Friday, August 21.
Emerging out of isolation, Balbi will perform two exclusive solo, acoustic shows [both in one night] on Saturday the 1st of August at The Brass Monkey, with special guest and resident ray o' sunshine, Jak Housden.
Revered by his contemporaries as a guitarist of immense virtuosity, eloquence and grace, and member of The Whitlams and Tim Minchin's current band, Jak's own songwriting paints the kaleidoscope of an artist and cacophony of a craftsman. His voice resplendent sunshine, his synthetic and occasional psychedelic innovations in melody and harmony illustrate his first solo single in over a decade, 'Bombs'.
Taking slightly more than a moment's respite following a phenomenal year of touring with The Whitlams and Tim Minchin in 2019, Jak Housden will open the night and a window into the world of his new songs.
What might we expect from Balbi? Well, one never quite knows! Although one thing is for certain, we might look forward to a passionate and equally enlightening remedy to four months in relative isolation, with a set that transcends new songs and reimagined out-takes, lifted from his diverse catalogue.
'I Think I Know For Sure' is released Friday, August 21 on 12" Vinyl & Digital Download.
"It's good to be alive." – Steve Balbi
www.stevebalbi.com
https://www.facebook.com/stevebalbiofficial/
https://www.instagram.com/stevebalbi/