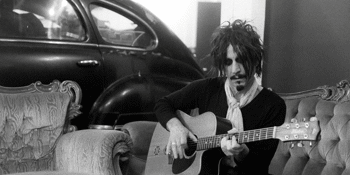 Code One
Steve Balbi +James Van Cooper
Brass Monkey (Cronulla, NSW)
Thursday, 22 November 2018 7:00 pm
The eclecticism of singer, composer and producer Steve Balbi mines a kaleidoscope of life at the margins, navigating a wistful path from melancholy through madness.
On Thursday 22 November, Steve Balbi returns to the Brass Monkey for an exclusive solo, acoustic performance, with special guest James Van Cooper.
The Australian country guitarist, Australiana does Americana performer, and fellow Mi-Sex axe-wielder James Van Cooper is quite literally 'Coming Home' following the release of his debut solo album. Indeed, it's both a pleasure and privilege to share the night, from 9pm.
As we anxiously anticipate the imminent release of Steve Balbi's first single in four years, Modern Love, the Brass Monkey can expect an open window into the world of the forthcoming solo album, Humans, accompanied by a collection of reimagined favourites and eclectic out-takes from his diverse back catalogue.
Inspired by Brandon Stanton's Humans of New York series, Balbi's highly anticipated follow-up to Black Rainbow (2014) sets an entirely new course for his enigmatic artistry.
Transcending rock and pop, coalescing sentimentality and soul, the first single Modern Love bespeaks riff and verse, exploring heterogeneity, refinement and dirty rotten groove.
Modern Love is out Friday 26 October; pre-sales from Friday 21 September.
"It's good to be alive." – Steve Balbi
https://www.facebook.com/stevebalbiofficial/
https://www.instagram.com/stevebalbi/