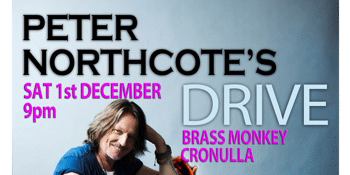 CODE ONE
Peter Northcote's DRIVE with Virginia Lillye & Guy Delandro
Brass Monkey (Cronulla, NSW)
Saturday, 1 December 2018 7:00 PM
Please Note: All tickets sold through this site are General Admission. GA tickets are allocated for standing room only. A general admission ticket does not guarantee seating. To book seated dinner and show tickets please call the venue on (02) 9544 3844

Brass Monkey regular, Peter Northcote returns with an amazing band and the incredible VIRGINIA LILLYE & GUY DELANDRO..
DRIVE favorite, VIRGINIA LILLYE is teaming up with the outrageous GUY DELANDRO. This will be a very special night of food, music, dance and fun.
Book early for this