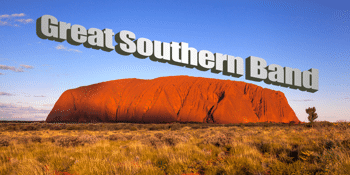 Code One
Great Southern Band
Brass Monkey (Cronulla, NSW)
Friday, 27 July 2018 7:00 PM
Put your gumboots on and slap some shrimp on the barbie, cause the Great Southern Band are coming to The Brass Monkey.

Born in the belly of the beast that is Shannon Noll (the true winner of Australian Idol), these young whipper snappers are set to trail blaze through this great sun-kissed land we call home. Playing only the finest Aussie hits ranging from Daddy Cool's "Eagle Rock" to The Wiggle's "Hot Potato", Great Southern Band are sure to get all the sheilas in the room hot and heavy.

The all star line up is comprised of Derso, Hilly, Frank the Tank, Mick "The Thunder" Dabzo, Jack-Daddy1SkiLad, Big Rubez, Rogza and all their mums and 2nd cousins. Together, they will be bringing you the finest night of music The Shire has ever seen.

Grab your tickets now.