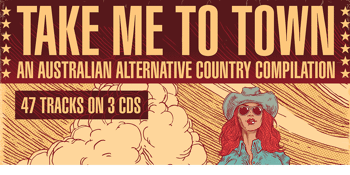 Code One
Take Me To Town Feat: Nick Barker & the Heartache State + Dan Brodie + Jen Mize + Peta Caswell + Dave Favours & the Roadside Ashes
Brass Monkey (Cronulla, NSW)
Sunday, 14 October 2018 7:00 PM
Please Note: All tickets sold through this site are General Admission. GA tickets are allocated for standing room only. A general admission ticket does not guarantee seating. To book seated dinner and show tickets please call the venue on (02) 9544 3844

Mother Hen Touring, Stanley Records and Post To Wire are proud to present the launch of their brand new CD compilation documenting the contemporary Australian alternative country scene. Spread over three CDs and 47 tracks, Take Me To Town surveys the musical landscape of troubadours, singer-songwriters and country rock bands and celebrates our rich and communal music scene.
At The Brass Monkey you'll be entertained by an amazing cross section of acts from the compilation that will bring an authentic alt-country spirit and vibe to the album launch. Prepare to be swept away by the melodic heartland rock of The Heartache State (feat. Nick Barker), critically acclaimed songwriter Dan Brodie, the majestic voice of Queensland-based Jen Mize, the heartwarming country soul of Peta Caswell and the inner city honky tonk sound of Dave Favours & The Roadside Ashes.
This will be a chance to raise a glass to some of our country's finest music and pick up a copy of this landmark compilation.
stanleyrecords.com.au
posttowire.com