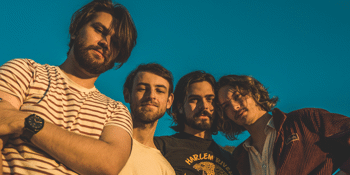 Brass Monkey (Cronulla, NSW)
Thursday, 26 September 2019 7:00 PM
Please Note: To book seated DINNER & SHOW tickets please call the venue on (02) 9544 3844 - All tickets sold through this site are General Admission. GA tickets are allocated for standing room only. A general admission ticket does not guarantee seating. All Shows Are 18+

80s New Wave and Psychedelic Rock just had an illegitimate love child. Born out of wedlock, Doko entered this world in late 2015 as a band trying to find their feet in a post lockout law Sydney. The band have gigged up and down the East Coast searching for an identity and sound of their own. From playing full capacity headline shows to three people in a rural pub, the band has quickly become a force to be reckoned with.
Doko dropped their radio-unfriendly EP Dezmonia in 2016, an uncompromising foray into psychedelic beach rock. With assistance from producer Chris Rolans (Lanie Lane, Cloud Control) they created something wild and unique while still holding on to their pop sensibilities. The EP's "care-free licks and crooning vocals" were met with an enthusiastic reception from fans and local media, receiving an A+ rating from the Pilerats music blog.
The EP picked up support from FBi Radio, local press coupled with an east coast tour, the EP had reached a new audience and the crowds began to grow. Dezmonia had also picked up some international support, with rotation from American and Canadian college radio stations, including KYSM San Antonio (2nd most played), KCSS Turlock Canada, WTJU Virginia, WPPB New York and many more.
Doko have spent the last year writing and recording a handful of singles with ARIA award winning producer Steven Schram (San Cisco, I Know Leopard). During this time the band had built upon their sound, taking influence from the New Wave acts of the late 70s & 80s. These recording sessions produced singles such as 'Break Open', which received support from Triple J Unearthed, and 'Walking on the Ocean', putting the band on a tour of NSW. After being energised by the enthusiastic crowds, Doko have just completed a six-date tour of the east coast in support of their new single 'Borrowed Time'. Expect to see the band on the road again with more new material before the end of 2019.
Facebook: https://www.facebook.com/dokoband/
Instagram: https://www.instagram.com/dokoband/?hl=en
Twitter: https://twitter.com/dokoband