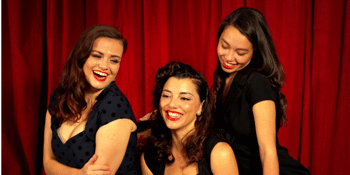 Code One
The Roslyn's (Matinee Show)
Brass Monkey (Cronulla, NSW)
Sunday, 2 December 2018 12:30 PM
Where an eternal romance with the classics, meets pop jazz nostalgia. These 3 young women have old world souls, and a deep connection to crooner style music. Usually appearing in sexy 1940s-style garb, singing and swinging in unison while performing vintage hits in whimsical three-part harmonies.

You can expect to hear their own magical renditions of a range that spans across time. Everything from Skeeter Davis and The Everly Brothers to modern expressions of icons such as Adele and Jolie Holland. With their amazing rhythm section being the icing on the cake! Quirky, and endearing touches show that The Roslyn's don't take themselves too seriously. Yet their committed, heartfelt singing demonstrates there is so much substance behind it all. Serenading you in classic form, with cosmic velvety vocals.

Their trappings are familiar to the days of early Andrews Sisters and The Carpenters. Brainchild of Alanna Cherote, who searched for her perfect mates, and most certainly found them when she joined forces with 2 very talented female artists, Ayla Yulie, and Courtney Josh. A charming and dreamy act, present a show that will take you on an enchanting trip down memory lane, and warm your heart.