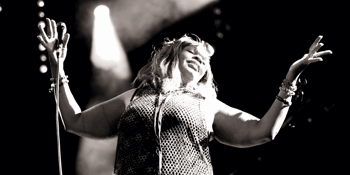 Code One presents..
Nicole Whitlock (USA)
Brass Monkey (Cronulla, NSW)
Thursday, 1 February 2024 6:30 pm
ONE NIGHT ONLY – Jules Boult proudly presents Nicole "Ms Nickki" Whitlock direct from Memphis TN, USA. Ms Nickki, it's a simple story, but an amazing one that began in the rural hills of Holly Springs Mississippi before blazing a trail to Memphis, Europe and beyond!

Nicole Whitlock possesses the bold faced allure and engaging storytelling of the legends that have gone before her. You can expect Memphis Soul, Delta Blues, Chitlin Circuit shenanigans and everything in between – from this one of a kind performer! Not to be missed. Ably abetted by Jules Boult and The Redeemers.

More about Ms Nickki…..
Ms. Nickki, you already know her a little, even without having heard her. She, her sister, her grandmother, had been shaking the stage of black vaudeville theatres for decades when they cut the first blues in the 1920s. their voices of bronze the great orchestras of Kansas City and the pianos of the slaps of New Orleans. Rhythm'n'blues, with Big Mama, the Chicago Blues, with Koko, soul above all have consecrated them. At the end of the 1980s, their little cousin from the Bronx imposed the same freedom, the same sincerity, in macho and flashy hip-hop. Even more, when the intoxication of Saturday gives way to the joy of Sunday, you have heard them thundering in the temple the announcement of happy days. They are still there, if you listen to them.

Ms. Nickki, it's a simple story, which you'll recognize from all those other women. Childhood in Holly Springs, in these rural hills of North Mississippi, bastion which gave us Fred McDowell, the Burnsides, the Kimbroughs, where the Reverend John Wilkins preaches. The Sunday temple, where the whole community bursts into gospel songs and dances, and where, like so many other singers, she takes the lead as a child for her favourite hymn, her program of life: "This little light that I ai, I'm going to let her shine ". Then adulthood, and the rural exodus to Memphis, for work.