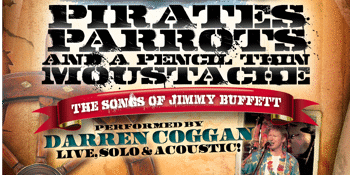 Code One presents..
Darren Coggan Presents: Pirates, Parrots & A Pencil Thin Moustache - The Songs of Jimmy Buffett
Brass Monkey (Cronulla, NSW)
Friday, 2 February 2024 7:00 pm
Get your fins up and feathers flashing as award winning performer and self-confessed 'Parrot Head', Darren Coggan, throws off the bowlines and sets sail for Margaritaville in a celebration honouring the music and legacy of the legendary Jimmy Buffett.

The songs of Jimmy Buffet evoke a state of mind and a state of being. The humorous chronicles of a laid-back seafaring life are encapsulated in tunes like Come Monday, Fins, Margaritaville, Cheeseburger In Paradise, Volcano, Five O'clock Somewhere, A Pirate Looks At Forty, Pencil Thin Moustache and many more.

Darren Coggan's 'Pirates, Parrots & A Pencil Thin Moustache' celebrates all things that are Jimmy Buffett. A combination of the romance of the ocean, a frivolous spirit and a good time in that laid back quasi-Caribbean style, all blended together like tequila, salt, and limes.

"Jimmy Buffett sailed away for his final cruise into the sunset on September 1, 2023, the day of my 50th birthday. He lived his life like a song and will be missed beyond measure. I hope to put a whole new set of sails on these great Buffett songs and drop anchor in a few familiar ports along the way to reunite the audience with these old friends".