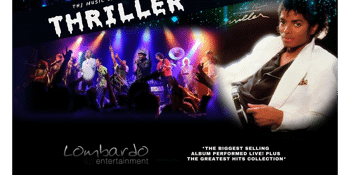 Code One
Thriller – The Micheal Jackson Tribute
Brass Monkey (Cronulla, NSW)
Saturday, 12 January 2019 7:00 pm
Please Note: All tickets sold through this site are General Admission. GA tickets are allocated for standing room only. A general admission ticket does not guarantee seating. To book seated dinner and show tickets please call the venue on (02) 9544 3844

The Music of THRILLER presents the worlds BIGGEST selling album of all time live! This tribute to "The King of Pop" will be a unique experience without any gimmicks or impersonators, leaving you up close and personal with the legendary music itself. Performed by an all star Sydney / USA small orchestra, every single piece from THRILLER will be presented live! PLUS a greatest hits collection to celebrate the music and spirit of Michael Jackson at The Shire's most iconic music venue.
Brought to you by Lombardo Entertainment who directed PRINCE: 1958-FOREVER, this tribute has been carefully constructed by one of Sydney's biggest Michael Jackson followers who has been creating this dedication to the King of Pop for over a decade. You have never heard the music this close, this personal or this real. Prepare for the ultimate Michael Jackson experience you have been waiting for- Featuring the impeccable voices of Joseph Gatehau, Naisa Lasalosi and Linda Knight.