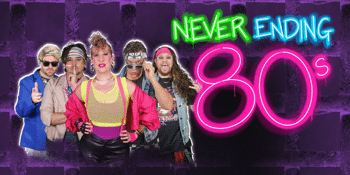 Code One presents..
Never Ending 80s Christmas Party
Brass Monkey (Cronulla, NSW)
Friday, 15 December 2023 7:00 pm
Dress Up In Your 80s Neons and Dance The Night Away!
There's no other decade like the 80's. It was THE era of BIG HAIR, BIG HITS and BIG FUN. NEVER ENDING 80's take you back to Party Like It's 1989 with a night packed full of the biggest hits by the greatest artists ever. The 80s were RAD with THE GREATEST soundtrack, and we are bringing it back to Dance The Night Away.
Now, Australia's number one retro band the Never Ending 80s are bringing that soundtrack to the stage as they carve their way through the music of Prince, Madonna, Cyndi Lauper, INXS, Bon Jovi, Huey Lewis & The News, Whitney Houston, as well as so many other giants, you'll be dancing and singing along to all of your 80s tunes LIKE TOTALLY..!