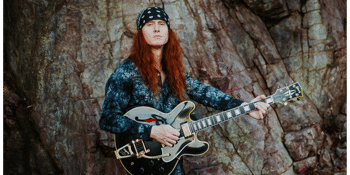 CODE ONE
8 Ball Aitken Band + Mitch Anderson Band (Blues Christmas Party with Special Guest Harry Brus)
Brass Monkey (Cronulla, NSW)
Saturday, 15 December 2018 7:00 PM
Please Note: All tickets sold through this site are General Admission. GA tickets are allocated for standing room only. A general admission ticket does not guarantee seating. To book seated dinner and show tickets please call the venue on (02) 9544 3844

8 BALL AITKEN's funky, foot stomping energy and infectious blend of swampy-blues, has brought the party vibe to festivals in more than a dozen countries worldwide for a decade. Nashville-based for the last six years, 8 Ball Aitken, is back with a new album Swamp Blues. The album debuted #2 in the Australian Blues Music Charts and single 'High Water' went to #1 on the AMRAP AIRIT Radio charts. As a festive treat he has assembled some of our best muso's together for a rockin' Bluesy Xmas Party!

"Swamp Blues is my salute to the rhythms and grooves of the Deep South and is my most stripped back studio recording to date. "Much of my USA touring is traversing between Texas, Tennessee, and Florida, travelling through Louisiana, home to the gritty, sub-genre sound I love the most and birth place of one of my musical heroes, Tony Joe White," says 8 Ball.

"Of the 12 tracks, two were co-written with friend and 100% certified Texas Bluesman, Guthrie Kennard, and it was such a thrill to be creative partners on High Water and Mama's Cookin", 8 Ball adds.

Swamp Blues is out now on CD, iTunes, vinyl record, and cassette.

REVIEWS…

"I first saw him when he was young, hairy and straight outa Brisbane. Now he's all growed up and going global. Unstoppable!"
Ross Wilson (Daddy Cool, Eagle Rock), Melbourne, Australia

"This is outstanding. The way it should be done. You have a new fan." Ray Wylie Hubbard (Snake Farm), Texas, USA


HARRY BRUS is an Australian bass player and guitarist, best known for his work with Matt Finish, Kevin Borich, Renée Geyer, Australian Crawl, Leo Sayer, Marcia Hines, Jimmy Barnes, Ross Wilson and Billy Thorpe. Harry currently has the pleasure of performing with his musical soul-mates in 'Mitch's Brew', featuring the ever soulful Mitchell Anderson and performs on a regular basis with his own outfit, The Harry Brus Band, featuring some of Australia's best funk-groove musicians.

MITCH ANDERSON is quite simply one of the best white soul singers of our time. With a career spanning for over 20 years singing and performing he recently won the hearts of millions of people throughout Australia and the rest of the world with his emotionally charged heartfelt performances on the Voice Australia where he was the top finalist on the winning team Seal.