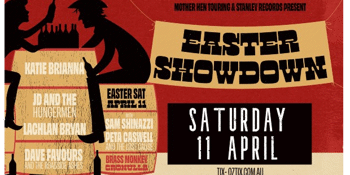 CODE ONE PRESENTS:
Stanley Records and Mother Hen Touring Showdown
Feat: Katie Brianna + JD and Hungermen + Lachlan Bryan + Peta Caswell + Dave Favours and the Roadside Ashes + Sam Shinazzi
Brass Monkey (Cronulla, NSW)
Saturday, 12 September 2020 7:00 PM
RESCHEDULED - FROM 11 APRIL TO 12 SEPTEMBER

We all love Easter Saturday. It's a day without care, content in the thought that no matter what you get up to, a two-day hangover will be no problem whatsoever. Plus, you have half a tonne of chocolate to get you through. With that in mind, the good people at Mother Hen Touring and Stanley Records have put together a very special night on the tiles, showcasing some of the country's finest talent.
On the bill are Katie Brianna (with band), Melbourne's Lachlan Bryan, JD & The Hunger Men (featuring Johnny Wishbone from the Snowdroppers), Dave Favours & The Roadside Ashes plus local legends Sam Shinazzi (with band) and Peta Caswell & The Lost Cause.
If you like world-class alt-country and Americana, twangy dark country-tinged rock 'n'roll with a little bit of cowpunk and you don't mind celebrating Easter to the sound of the Devil's music, then you'll be well catered for.
It's an Easter Showdown, Saturday, April 11 at the Brass Monkey. It'll be more fun than a hot cross bun.