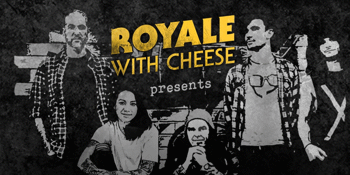 Code One presents
Royale with Cheese: 90s Unplugged - EARLY SHOW
Brass Monkey (Cronulla, NSW)
Saturday, 31 October 2020 5:30 PM
We are abiding by all COVID 19 Restrictions and Protocols so anyone displaying signs of illness will not be permitted entry.

All Shows Are 18+ - Doors Open 5.30pm and Concludes at 8.15pm sharp..
Venue contact - brassmonkeycronulla@gmail.com
...
Royale With Cheese is Australia's premier 90s rock show, playing all 90s rock and pop covers – from Seattle-sound to Grunge to Britpop and all the best Oz Rock from the 90s.

Comprised of five experienced musicians, Royale With Cheese is not just a covers band - it's a rollicking 90s party reviving one of the greatest and most influential decades in rock music. We are having an absolute ball playing what is an outstanding repertoire from an amazing period of music.

From Nirvana, Pearl Jam and Soundgarden to Radiohead, Blur, Pulp and Oasis to Silverchair, You Am I and Screaming Jets to Red Hot Chili Peppers, Green Day and Blink 182, Royale With Cheese plays all your favourite 90s covers and is sure to make your 90s party a night to remember!