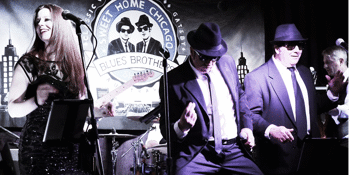 Code One
Sweet Home Chicago - Blues Brothers Show
Brass Monkey (Cronulla, NSW)
Saturday, 8 June 2019 7:00 pm
Please Note: All tickets sold through this site are General Admission. GA tickets are allocated for standing room only. A general admission ticket does not guarantee seating. To book seated dinner and show tickets please call the venue on (02) 9544 3844 – All Shows are 18+

Sweet Home Chicago, Australia's own premier Blues Brothers show is appearing for the first time at The Brass Monkey by popular demand as part of their 2019 East Coast tour.

This show has consistently received critical acclaim from audiences and is rated as one of the best in Australia. Jake (Shawn Tyler) and Elwood (Colin Hardcastle) Blues headline a professional 10 piece show band that keep audiences up on their feet
and yelling for more. Get ready to sing and dance to iconic songs from the award winning movie, including the smash hits; Everybody Needs Somebody - Shake a Tail Feather - Gimme Some Loving and Soul Man as well as a few surprises inspired by the likes of Brian Setzer and Stevie Ray Vaughan.

Yes, the boys are getting the band back together, and you are cordially invited to experience it all; the story, the music, the lights, the brass, the hats, the shades, the soul, the blues. This is an experience not to be missed. Be sure to wear your best themed outfits on the night.