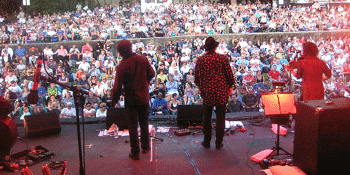 Code One
Woodstock - 50th Anniversary Show
Brass Monkey (Cronulla, NSW)
Friday, 26 July 2019 7:00 pm
Please Note: All tickets sold through this site are General Admission. GA tickets are allocated for standing room only. A general admission ticket does not guarantee seating. To book seated dinner and show tickets please call the venue on (02) 9544 3844
Woodstock 50th Anniversary celebrating the music and the moment that defined a generation. Why do we celebrate a music festival that happened 50 years ago? At the Woodstock Music and Arts fair 500,000 watts and the world listened while a generation recognised and identified itself and its values through Peace, Love and Rock n roll. Set against a backdrop of the anti- Vietnam movement, the peace movement, student activism and the Black Panther party Conservative America had declared war on its own children.
that's why 50 years later the Woodstock Festival remains the defining moment for a generation trying to find a better way...(Damien Lovelock)
Access All Eras is celebrating by staging Woodstock '19, bringing together the cream of Sydney's musos and singers, this Tribute to Woodstock will celebrate the high noon of these times – the anti-establishment, anti-war, peace-campaigning Sixties. You'll experience the rambling solos and heart-wrenching emotion in classic songs from artists including Jimi Hendrix, Janis Joplin, Joni Mitchell, Jefferson Airplane, Canned Heat, The Band, Joe Cocker and more.
'Woodstock '19' features a blistering rock band fronted by Damien Lovelock (Celibate Rifles, SBS) and including Floyd Vincent, Amanda Easton (Richard Clapton), Rex Goh (Air Supply), Tim Wedde (The Mockers), Steve Bull (Icehouse), Sarina Jennings (James Morrison), Lloyd Gyi (The Atlantics) and Nick Meredith (Matt Finish).
Off the back of a slew of sold-out shows across Sydney, including an audience of 6000 across three nights at the Taronga Zoo Twilight Series, this Tribute to Woodstock will take you back to the defining event of a generation.