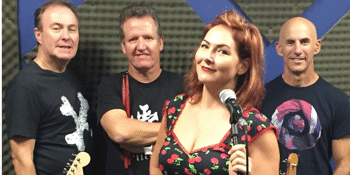 Code One presents
The Distractions + Bando Road
Brass Monkey (Cronulla, NSW)
Saturday, 14 November 2020 7:00 PM
We are abiding by all COVID 19 Restrictions and Protocols so anyone displaying signs of illness will not be permitted entry.

All Shows Are 18+ - Doors Open 7pm
Venue contact - brassmonkeycronulla@gmail.com
...
14/11/2020, the Brass Monkey will be rockin' n swaying to two of the hottest local bands the Shire has produced.

After a full house at the Brass Monkey on the 28th Dec, The Distractions will back doing more of the same, a steaming blend of hot soul and rock. Led by the inimitable Kirsten Boggiss-Rossi, with Pete Harris & Drew Bennett on bass and drums, and Greg Bullen on guitar, these guys have seriously sweated rhythm and melody for years and their set will take the top off this room.

Ably supported by Bando Road, an originals band making their debut at the Brass Monkey, this band is made up of some very experienced players. Bando Road are Brett Young Vocals/Guitar, Scott Macdonald Drums , Jon Purcell Lead Guitar & Paul Bardetta Bass They have a very distinctive sound and they should be the start to what will be a very entertaining night.