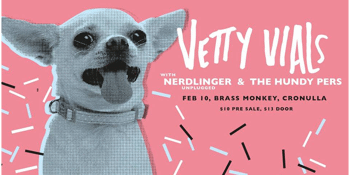 CODE ONE
Vetty Vials + Nerdlinger + The Hundy Pers
Brass Monkey (Cronulla, NSW)
Sunday, 10 February 2019 7:00 pm
Please Note: All tickets sold through this site are General Admission. GA tickets are allocated for standing room only. A general admission ticket does not guarantee seating. To book seated dinner and show tickets please call the venue on (02) 9544 3844 – All Shows are 18+
Sydney's Folk Rock/ Emo inspired outfit Vetty Vials released their debut EP "I am okay, I promise" in June 2017 and haven't slowed down since. The past year has seen Vetty and the band travel Australia playing with the likes of Clowns, Press Club, Born Lion, The Bennies, & Antonia and the Lazy Susan's.

Vetty Vials voice has been described as having a twangy, country sound giving the band a distinctive footprint in the Australian music scene. They released their latest single "Say" in June 2018, The heartfelt vocals and lyricism on the new single tell a moving emotional story that builds in layers with the music comparable to acts such as Dallas Green and Glen Hansard with a slightly heavier twist.

Vetty is heading on tour from November, featuring on bills such as Melbourne's Not Fest, Newcastle's Party Animals and Canberra's Gingerfest before the band prepares to record their debut album in 2019.