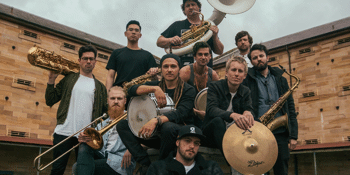 Brass Monkey (Cronulla, NSW)
Sunday, 20 October 2019 7:00 PM
Please Note: To book seated DINNER & SHOW tickets please call the venue on (02) 9544 3844 - All tickets sold through this site are General Admission. GA tickets are allocated for standing room only. A general admission ticket does not guarantee seating. All Shows Are 18+

Hot Potato Band is a brass band like no other. Beginning as street performers the 10 piece band from Sydney Australia are passionate about re-igniting organic performance and acoustic instrumentation, breaking down the barriers between stage and audience, and composing engaging original music that makes people want to dance. Bridging Ska, Reggae, Funk & Pop, they are sure to leave a lasting impression.

It has been 5 years, however this October, they return to the very first venue they ever performed in, The Brass Monkey Cronulla, one night only.